Faculty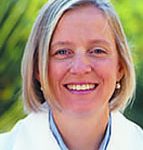 April Stempien-Otero
Dr. Stempien-Otero is the Craig Tall Family Endowed Professor in Heart Failure Research and a UW associate professor of medicine.As a practicing heart failure transplant cardiologist who has participated in multicenter clinical trials and undergone substantial additional training in basic science research, Dr. Stempien-Otero has developed the skills to bring bench to bedside studies to fruition. Her lab is using both mouse and human models to understand the role of bone marrow derived cells in cardiac repair. These studies include a Phase 1 trial to evaluate the histologic effects of injection of bone marrow cells into patients undergoing left ventricular assist device as a bridge to cardiac transplantation. In addition, her lab is collecting cardiac tissue from humans undergoing left ventricular assist device placement or cardiac transplantation. These samples are used for histologic analysis and isolation of RNA from cell fractions.
Dr. Stempien-Otero earned her bachelor's degree from Dartmouth College and her M.D. from the University of Connecticut's School of Medicine. After being chief resident at the University of Virginia, she came to the UW for a cardiology fellowship and was chief fellow. She is board certified in internal medicine and cardiology.
Among her honors, Dr. Stempien-Otero has been named a Best Doctor in America from 2002-present, received the Mentored Physician Scientist Award from the NIH and been named CME Teacher of the Year by the UW School of Medicine.